Pressing Machine Operator( 6 Month Diploma )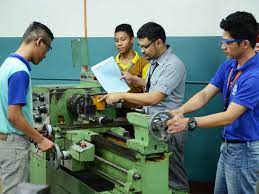 Pressing Machine Operator
Pressing Machine Operator: The Pressing Machine Operator is responsible
for making round capacitor flat, using pressing machine.
Brief Job Description: The individual at work sets up and operate pressing
machine to make round capacitors flat.
Personal Attributes: The job requires the individual to have: steady hands
and ability to work in a standing position for long hours.
Set up and operate pressing machine
This OS unit is about setting up the pressing machine as per the parameters specified
in the Lot Paper and then operating it
Scope
This unit/task covers the following:
 Set up the pressing machine
 Perform sample pressing
 Process the whole lot of rounded capacitors
 Maintain pressing machine
 Achieve productivity and quality of standards
Performance Criteria
Set up the pressing machine
To be competent, the user/individual on the job must be able to:
receive rounded capacitors from pinching operator along with Lot Paper
read the Lot Paper for capacitor type and set-up parameters for pressing
machine to get the desired capacity value
set Pressure, Temperature and Time in the pressing machine as per Lot Paper
enter the readings of set parameters in the Process Inspection Sheet
Perform sample pressing
To be competent, the user/individual on the job must be able to:
load few strips containing rounded capacitors on the pressing block for
sample pressing
operate pressing machine as per the SOP
check the capacity value of flattened capacitors with LCR meter
make entries of the sample pressing in the Lot Paper and get it verified from
the shift in-charge
Process the whole lot of rounded capacitors
To be competent, the user/individual on the job must be able to:
operate pressing machine and process the whole lot of rounded capacitors if
capacity value is within the specified range
make changes in the Pressure, Temperature and Time as per the SOP if the
deviation in the capacity value from the specified range is within 5%
inform shift in-charge if deviation in the capacity value from the specified
range is more than 5%
change parameters as suggested by the shift in-charge to get desired capacity
value
perform another sample pressing to check that capacity value of flattened
capacitors is within specified range
make entries of the sample pressing in the Lot Paper and get it verified from
the shift in-charge
process the whole lot of rounded capacitors by operating pressing machine
make entries in the Production Book
send flat capacitors along with Lot Paper for further processing
Maintain pressing machine
To be competent, the user/individual on the job must be able to:
clean pressing machine and nearby area at the start of the shift as per the
SOP
inform maintenance department in case of machine breakdown after
completing the necessary documentation
receive the machine in functional condition from the maintenance
department after the repair work
Achieving productivity and quality standards
To be competent, the user/individual on the job must be able to:
achieve 100% target number of flattened capacitors
ensure parameters are set in order to get the capacity value within specified
range
document as per SOP
report to shift in-charge when required
Organizational Context
The individual on the job needs to know and understand:
company's policies on: incentives, delivery standards and personnel
management
work flow involved in production process of the company
importance of the individual's role in the workflow
reporting structure
profile of clients
raw material stocking standards
safety and quality standards followed in the organization
Technical Knowledge
The user/individual on the job needs to know and understand:
different types of capacitors
acceptable tolerances in capacity value deviation
related SOPs and work instructions
special safety precautions to be taken during the processing of capacitors
quality standards
FIFO system of inventory control
handling of raw materials
traceability back to original materials
routine maintenance of machines and basic repairs
5S standards (sorting, setting, standardise, sustain, shining) + safety, security
commonly occurring machine and component defects
Reading and Writing Skills
The user/individual on the job needs to know and understand how:
to read production schedules, SOPs and work instructions
to read Lot Paper and special work instructions
to maintain Lot Paper, Process Inspection Sheet and Production Book
to write breakdown slip
to document the activities as per the SOP
Communication Skills
The user/individual on the job needs to know and understand how:
to effectively communicate with the shift in-charge on the process issues
to effectively communicate maintenance issues to the maintenance personnel
Team work and Multitasking
The user/individual on the job needs to know and understand how:
to be able to work on multiple pressing machines at a time, as instructed
to work as a team and deliver on time to next work process
Reflective Thinking
The user/individual on the job needs to know and understand how:
to reduce repetitive errors
to improve work process
Analytical Thinking

The user/individual on the job needs to know and understand how:
to promptly resolve problems
to enhance machine performance
Using Test instruments and Machines
The user/individual on the job needs to know and understand how:
to operate the LCR meter
to operate Thermocouple
Problem solving and Troubleshooting
The user/individual on the job needs to know and understand how:
to troubleshoot and rectify parameter settings in the machine when the
capacity value is not within the specified range
Work with superiors and colleagues
Description
This OS unit is about communicating, coordinating and maintaining proper
relationship with colleagues and seniors in order to achieve smooth work flow
Scope
This unit/ task covers the following:
 Interact with supervisor or superior
 Coordinate with colleagues
Performance Criteria
Interacting with
supervisor
To be competent, the user/ individual must be able to:
understand work requirements by receiving instructions from reporting
supervisor
understand standard operating procedure of the company
escalate problems that cannot be handled including repetitive PCB defects,
machine failures, potential hazards, process disruptions, repairs and
maintenance of machine
report work completed and receive feedback on work done
resolve personnel issues
rectify errors as per feedback and minimize mistakes to zero in future
communicate about process flow improvements, quality of output, product
defects received from previous process, repairs and maintenance of tools and
machinery as required and find technical solutions on specific issues
handover completed work and deliver the work of expected quality despite
constraints
Interacting with
colleagues
To be competent, the user/ individual must be able to:
collect required spares and raw materials from tool room or stores
deposit unused or faulty materials, parts and tools to stores
assist colleagues where necessary and as per capability
resolve conflicts with colleagues at work to achieve smooth workflow
complete rework in time based on feedback from quality or process
departments
put team over individual goals
Knowledge and Understanding
A. Organizational Context
The individual on the job needs to know and understand:
company's policies on: incentives, delivery standards, and personnel
management
work flow involved in company's process
importance of the individual's role in the workflow
reporting structure
Technical Knowledge
The individual on the job needs to know and understand:
how to communicate effectively
how to build team coordination
Teamwork and Multitasking
The individual on the job needs to know and understand how:
to deliver product to next work process on time
to share work load as required
Decision Making
The individual on the job needs to know and understand:
how to report potential areas of disruptions to work process
when to report to supervisor and when to deal with a colleague depending on
the type of concern
Reflective Thinking
The individual on the job needs to know and understand:
To reduce repetitive errors and improve work process
Critical Thinking
The individual on the job needs to know and understand:
how to spot process disruptions and delays
Follow safety standards
This unit/ task covers the following:
 Understand potential sources of accidents
 Use safety gear to avoid accidents
 Understand the safety procedures followed by the company
Performance Criteria

To be competent, the user/individual on the job must be able to:
spot and report potential hazards on time
follow company policy and rules regarding hazardous materials
avoid accidents related to use of potentially dangerous chemicals, gases,
sharp tools and hazards from machines which involves exposure to possible
injuries such as cuts, bites, stings, minor burns, etc.
Handle with care when using an electrical drill and sharp cutting objects
Using safety gear
To be competent, the user/individual on the job must be able to:
understand which safety gear must be used for a particular task
eye, respiratory and hearing protection as per company policy
use safety gear such as respirator, mask, skull caps, gloves, googles, jacket ,
etc., as prescribed for the job
Understanding of safety procedures
To be competent, the user/individual on the job must be able to:
comply with standard health and safety procedure followed in the company
while handling an equipment and hazardous materials and tools or situations
understand and follow the evacuation procedure properly such as fire drills,
emergency evacuation procedures, first aid to self and others, etc., which
help in case of an emergency
Following daily safety measure
To be competent, the user/ individual must be able to:
take adequate safety measures while on work to prevent accidents
ensure zero accidents in work
avoid damage of components due to negligence in ESD procedures
ensure no loss for company due to safety negligence
ensure proper machine maintenance, work process achieving quality outputs
as per the company standard
Communicating to supervisor
To be competent, the user/ individual must be able to:
improve process flow to reduce anticipated or repetitive hazards
report on mishandling of tools, machines or hazardous materials and on
electrical problems that could result in accident
escalate about any hazardous materials or things found in the premises
report about any breach of safety procedure in the company
follow electrostatic discharge (ESD) measures for electronic component
safety
Organizational Context
The individual on the job needs to know and understand:
company's policies on handling: harmful chemicals and sharp tools, safety
and hazards of machines, fire safety/drill, first aid and, disposal of harmful
chemicals and materials, quality standards
company occupational safety and health policy followed
company emergency evacuation procedure
company's medical policy
Technical Knowledge
The individual on the job needs to know and understand:
how to maintain the work area safe and secure
how to handle hazardous material
how to follow safety procedures while operating hazardous tools and
equipment
emergency procedures to be followed such as fire accidents and fire safety
education
how to use machines and tools without causing bodily harm
first aid execution
disposal of hazardous chemicals, tools and materials by following prescribed
environmental norms or as per company policy
Communication Skills
The individual on the job needs to know and understand how:
to effectively communicate the danger
to understand the quality standard of the company
Reflective Thinking
The individual on the job needs to know and understand how:
to learn from past mistakes regarding use of hazardous machines, tools or
chemicals
Critical Thinking
The individual on the job needs to know and understand:
how to spot danger
procedure to follow in the event of a fire or other hazard
Handling Safety Equipment
The individual on the job needs to know and understand:
to wear gloves, goggles, masks, caps, shoes, coats, etc.
to use safety equipment such as fire extinguisher during fire accidents
Decision Making
The individual on the job needs to know and understand:
importance of reporting potential sources of danger
appropriate actions to be taken in the event of an accident
procedure for disposing of hazardous materials, safely and following
environmental guidelines