Structural Steel NDT Tester (6 month course)
Structural Steel NDT Tester click here
Brief Job Description
This job role is responsible for performing non-destructive tests on structural steel components and welded sections by using Dye Penetration Test, Magnetic Particle Test, and Ultrasonic Test. The individual should display sound technical knowledge and will have to maintain safe and quality working practices.

Personal Attributes
This job role requires the individual to be physically and mentally strong enough to oversee the quality
control work at a construction site. The individual should be having strong organizational, interpersonal
and communication skills, along with comprehensive technical knowledge of quality assurance and quality control operations.
Work according to personal health, safety and environment protocol at construction site
Description
This NOS covers the skill and knowledge required for an individual to work according to personal health,
safety and environmental protocol at construction site

Scope
The scope covers the following :
Follow safety norms as defined by organization
Adopt healthy & safe work practices
Implement good housekeeping and environment protection process and activities
Elements and Performance Criteria

Follow safety norms as defined by organization
To be competent, the user/individual on the job must be able to:
PC1. identify and report any hazards, risks or breaches in site safety to the appropriate authority
PC2. follow emergency and evacuation procedures in case of accidents, fires, natural calamities
PC3. follow recommended safe practices in handling construction materials, including chemical
and hazardous material whenever applicable

PC4. participate in safety awareness programs like Tool Box Talks, safety demonstrations, mock
drills, conducted at site
PC5. select and operate different types of fire extinguishers corresponding to types of fires as per EHS guideline
PC6. identify near miss , unsafe condition and unsafe act

Adopt healthy & safe work practices
To be competent, the user/individual on the job must be able to:
PC7. use appropriate Personal Protective Equipment (PPE) as per work requirements including:
Head Protection (Helmets), Ear protection Fall Protection, Foot Protection, Face and Eye
Protection, Hand and Body Protection, Respiratory Protection (if required)

PC8. handle all required tools, tackles , materials & equipment safely
PC9. follow safe disposal of waste, harmful and hazardous materials as per EHS guidelines
PC10. install and apply properly all safety equipment as instructed
PC11. follow safety protocol and practices as laid down by site EHS department
PC12. undertake and pass height pass test as per EHS guideline

Implement good housekeeping practices

To be competent, the user/individual on the job must be able to:
PC13. collect and deposit construction waste into identified containers before disposal, separate
containers that may be needed for disposal of toxic or hazardous wastes
PC14. apply ergonomic principles wherever required
Knowledge and Understanding (KU)
The individual on the job needs to know and understand:
KU1. reporting procedures in cases of breaches or hazards for site safety, accidents, and
emergency situations as per guidelines

KU2. types of safety hazards at construction sites
KU3. basic ergonomic principles as per applicability
KU4. the procedure for responding to accidents and other emergencies at site

KU5. use of appropriate personal protective equipment to be used based on various working conditions
KU6. importance of handling tools, equipment and materials as per applicable
KU7. health and environments effect of construction materials as per applicability
KU8. various environmental protection methods as per applicability

KU9. storage of waste including the following at appropriate location: non-combustible scrap
material and debris, combustible scrap material and debris, general construction waste and
trash (non-toxic, non-hazardous), any other hazardous wastes and any other flammable
wastes

KU10. how to use hazardous material, in a safe and appropriate manner as per applicability
KU11. types of fire
KU12. procedure of operating different types of fire extinguishers
KU13. safety relevant to tools, tackles, & requirement as per applicability
KU14. housekeeping activities relevant to task

Generic Skills (GS)
User/individual on the job needs to know how to:
GS1. write in at least one language, preferably in the local language of the site
GS2. fill safety formats for near miss, unsafe conditions and safety suggestions
GS3. read in one or more language, preferably in the local language of the site
GS4. read sign boards, notice boards relevant to safety

GS5. speak in one or more language, preferably in one of the local language of the site
GS6. listen instructions / communication shared by site EHS and superiors regarding site safety,
and conducting tool box talk
GS7. communicate reporting of site conditions, hazards, accidents, etc.
GS8. not create unsafe conditions for others
GS9. keep the workplace clean and tidy

GS10. identify safety risks that affect the health, safety and environment for self and others
working in the vicinity, tackle it if within limit or report to appropriate authority
GS11. assess and analyze areas which may affect health, safety and environment protocol on the site
GS12. ensure personal safety behavior GS13. respond to emergency
Perform ultrasonic testing on structural steel components and welded sections
Description
This unit describes the skills and knowledge required to perform ultrasonic testing on structural steel
components and welded sections

Scope
The scope covers the following :
Perform ultrasonic testing on structural steel components and sections to detect deformities present
inside the weld, between weld and parent material, rolling deflects under the surface of base material

Elements and Performance Criteria
Perform ultrasonic testing on structural steel components and sections to detect deformities present
inside the weld, between weld and parent material, rolling deflects under the surface of base material
To be competent, the user/individual on the job must be able to:

PC1. read and interpret the quality plan, WPS, fabrication shop drawings etc. to
understand the technical specifications, locations of testing and method to be
adopted

PC2. identify the location of joint or section for conducting the test as per specification
PC3. estimate the quantity of materials and time required for completion of test
PC4. read and interpret the standard specifications and perform the test in accordance to
the same

PC5. carry out pre-test cleaning activities using solvents, brushes, scrubs etc. to remove
any paint, dust, oil, grease or scale etc. from the test surface

PC6. identify the transducers, instruments and calibration standards to be used based
upon conditions of testing, location and accessibility of testing and purpose of test
PC7. ensure that the instrument is calibrated as per schedule before starting the test
PC8. run diagnostic checks using calibration standards to ensure that readings obtained
are accurate

PC9. apply coating of gel, water or solvent on the surface to be tested appropriately as
per manufactures guidelines or standard practices
PC10. ensure that the test specimen is properly immersed in solvent in case of immersed
type of ultrasonic test

PC11. ensure that transducers are properly coated and ready for use
PC12. choose normal or angle beam as per test requirement and instructions
PC13. set the frequency of ultrasound as per test specifications and requirements
PC14. ensure that the position and movement of both pieces is correct and simultaneous
in case of dual element transducers
PC15. ensure that the single piece transducer is moving appropriately and required test
area is covered
PC16. read the graphs and other details mentioned on the display to compute the size and
type of defect

Knowledge and Understanding (KU)
The individual on the job needs to know and understand:
KU1. standard practices for quality control works
KU2. safety rules and regulations for handling and storing required tools, equipment and materials
KU3. personal protection including the use of related safety gears & equipment's

KU4. service request procedures for tools, materials and equipment's
KU5. statutory compliance requirement related to working at height
KU6. statutory compliance requirement related to workmen engagement
KU7. different types of testing carried out on fabricated materials

KU8. destructive and non-destructive testing, difference, pros and cons
KU9. how the sound is transmitted, properties of sound
KU10. concept of wave and related parameters
KU11. principle of ultrasonic testing

KU12. different methods and procedures of performing ultrasonic testing
KU13. different equipment's used in ultrasonic testing , their range, area of application,
classification and principles of operation
KU14. how to operate various settings on the instrument and their implication on testing
KU15. application of ultrasonic testing
KU16. limitations of ultrasonic testing

KU17. type of defects inspected by ultrasonic testing
KU18. precautions to be taken while conducting ultrasonic testing
KU19. importance of cleaning the surface before and after conducting ultrasonic testing test
KU20. different methods of cleaning metal surface

KU21. interpret the readings and graphs shown on the display
KU22. how to classify the sample based upon the test report
KU23. how to calibrate the instrument

Generic Skills (GS)
User/individual on the job needs to know how to:
GS1. write in at least two language, preferably in the local language of the site and basic English
GS2. provide clear and simple instructions, details & sketches to sub-ordinate
GS3. record and document daily productivity report, daily labor attendance & details regarding
work
GS4. prepare basic status updates for the superiors in the prescribed format
GS5. read one or more language, preferably in the local language of the site
GS6. read drawing, specification and standards related to relevant work

GS7. read key documents including quality standards and standard working methods
GS8. read various, sign boards, safety rules and safety tags , instructions related to exit routes
during emergency at the workplace

GS9. speak in one or more language, preferably in one of the local languages of the site
GS10. listen and follow instructions clearly given by the superior
GS11. provide clear instructions to subordinates for completion of task as per work plan, time
schedule and quality

GS12. estimate required material and resources for work
GS13. decide alternate course of action in case of hindrance to work
GS14. determine appropriate location of joint / segment for conducting the test
GS15. determine the transducers, instruments and calibration standards for completion of the test
GS16. decide on whether the instruments required for testing are calibrated

GS17. determine whether test specimen is appropriately immersed in the solvent
GS18. decide on normal or angle beam as per requirements
GS19. plan work & organize required resource in coordination with team members and superior
GS20. plan work targets, allocate time schedule to sub-ordinates and organize completion of task
within allocated time

GS21. ensure completion of work as per agreed time schedule and quality
GS22. resolve and solve any conflict within the team
GS23. compute the size and type of defect basis readings
GS24. report to superiors in case of any defects or shortage in tested components and sections
GS25. assess quantity of materials for day work

GS26. optimize resources
GS27. minimize wastages
GS28. ensure correct positioning of components for testing to avoid safety violations
GS29. assess whether readings obtained are accurate basis diagnostic tests
GS30. assess complexity of the tasks and provide guidance for carrying out corrective action as per
requirement

GS31. identify and assess how violation of any safety norms may lead to accidents
Perform Magnetic Particle test on structural steel welded joints
Description
This unit describes the skills and knowledge required to perform Magnetic Particle test on structural steel
welded joints

Scope
The scope covers the following :
Perform Magnetic Particle test on structural steel welded joints to detect deformities present on the
surface, or originating from the surface
Elements and Performance Criteria
Perform Magnetic Particle test on structural steel welded joints to detect deformities present on the
surface, or originating from the surface

To be competent, the user/individual on the job must be able to:
PC1. read and interpret the quality plan, WPS, fabrication shop drawings etc. to understand the
technical specifications, locations of testing and method to be adopted
PC2. identify the location of joint or section for conducting the test as per specification
PC3. estimate the quantity of materials and time required for completion of test
PC4. read and interpret the standard specifications and perform the test in accordance to the
same

PC5. confirm that the surface to be tested can be magnetized
PC6. carry out pre-test cleaning activities using solvents, brushes, scrubs etc. to remove any
paint, dust, oil, grease or scale etc. from the test surface
PC7. ensure that the temperature of the test specimen is within applicable limits prescribed in the
test procedure

PC8. ensure proper storage of consumables to avoid contamination
PC9. ensure that lighting arrangements are appropriate and compatible to type of indicator used
PC10. apply suspended magnetic particles to the test surface using appropriate method
PC11. apply dry powder indicators to the surface of the test specimen
PC12. select the suitable method for application of magnetic field to the test specimen
PC13. apply the magnetic fields in two directions perpendicular to each other of required or
instructed magnitude

PC14. check the proper application of magnetic field
PC15. clean the particulate matter after getting approval from the seniors
PC16. setup reverse magnetic field to demagnetized the component or structure under inspection

Knowledge and Understanding (KU)
The individual on the job needs to know and understand:
KU1. standard practices for quality control works
KU2. safety rules and regulations for handling and storing required tools, equipment and materials
KU3. personal protection including the use of related safety gears & equipments

KU4. service request procedures for tools, materials and equipments
KU5. statutory compliance requirement related to working at height
KU6. statutory compliance requirement related to workmen engagement
KU7. principle of magnetic particle test

KU8. standard procedure for conducting the magnetic particle test
KU9. fundamentals and concepts of magnetic field
KU10. concept of flux leakage
KU11. different equipments and methods used for creating a magnetic field, their limitations and
advantages, areas of application

KU12. methods of measuring magnetic field, various instruments used for the same, their range,
principle of operation, area of operation and limitations
KU13. limitations of magnetic particle method
KU14. type of defects inspected by magnetic particle test
KU15. precautions to be taken while conducting magnetic particle test

KU16. importance of cleaning the surface before and after conducting magnetic particle test
KU17. different methods of cleaning metal surface
KU18. different types of indicators, their application and auxiliary items required by them
KU19. what is carrier, its properties and effects
KU20. interpretation of magnetic patterns developed by particles on the surface of test specimen

Generic Skills (GS)
User/individual on the job needs to know how to:
GS1. write in at least two language, preferably in the local language of the site and basic English
GS2. provide clear and simple instructions, details & sketches to sub-ordinate
GS3. record and document daily productivity report, daily labour attendance & details regarding
work

GS4. prepare basic status updates for the superiors in the prescribed format
GS5. read one or more language, preferably in the local language of the site
GS6. read drawing, specification and standards related to relevant work
GS7. read key documents including quality standards and standard working methods

GS8. read various, sign boards, safety rules and safety tags , instructions related to exit routes
during emergency at the workplace
GS9. speak in one or more language, preferably in one of the local languages of the site
GS10. listen and follow instructions clearly given by the superior
GS11. provide clear instructions to subordinates for completion of task as per work plan, time
schedule and quality
GS12. estimate required material and resources for work
GS13. determine the location of joint / segment for testing

GS14. determine whether the surface to be tested can be magnetized
GS15. determine appropriate method for applying suspended metal particles to the test surface
GS16. determine appropriate method for applying magnetic field to the test specimen
GS17. determine and check for proper application of magnetic field
GS18. plan work targets, allocate time schedule to sub-ordinates and organize completion of task
within allocated time

GS19. ensure completion of work as per agreed time schedule and quality
GS20. report to superiors in case of any defects or shortage in tested components and sections
GS21. assess quantity of materials for day work
GS22. optimize resources
GS23. minimize wastages
GS24. assess whether the temperature of the specimen is within applicable range
GS25. assess complexity of the tasks and provide guidance for carrying out corrective action as per
requirement
GS26. identify and assess how violation of any safety norms may lead to accidents
Perform liquid /dye penetration test on structural steel welded joints
Description
This unit describes the skills and knowledge required to perform liquid /dye penetration test on structural
steel welded joints

Scope
The scope covers the following :
Perform liquid /dye penetration test on structural steel components and sections to detect
deformities present on the surface, or originating from the surface
Elements and Performance Criteria

Perform liquid /dyepenetration test on structural steel components and sections to detect deformities
present on the surface, or originating from the surface
To be competent, the user/individual on the job must be able to:

PC1. read and interpret the quality plan, WPS, fabrication shop drawings etc to understand the
technical specifications, locations of testing and method to be adopted
PC2. identify the location of joint or section for conducting the test as per specification
PC3. estimate the quantity of penetrants and developers and time required for completion of test
PC4. read and interpret the standard specifications and perform the test in accordance to the
same

PC5. confirm the compatibility of penetrants and developers with each other, with base metal and
with conditions of testing
PC6. out pre-test cleaning activities using solvents, brushes, scrubs etc. to remove any paint,
dust, oil, grease or scale etc. from the test surface
PC7. ensure that area surrounding the test surface is also adequately cleaned and free from
impurities

PC8. identify and use suitable means to apply penetrant on the test surface
PC9. apply the penetrant uniformly across the test specimen and allow it to sock into the flaw for
instructed or specified period of time

PC10. remove excess penetrant from the surface of test specimen using suitable means as per type
of penetrant used and manufactures guidelines
PC11. avoid direct application of removers/solvents to the test surface
PC12. select and use appropriate developers based upon the type of penetrant and inspection
condition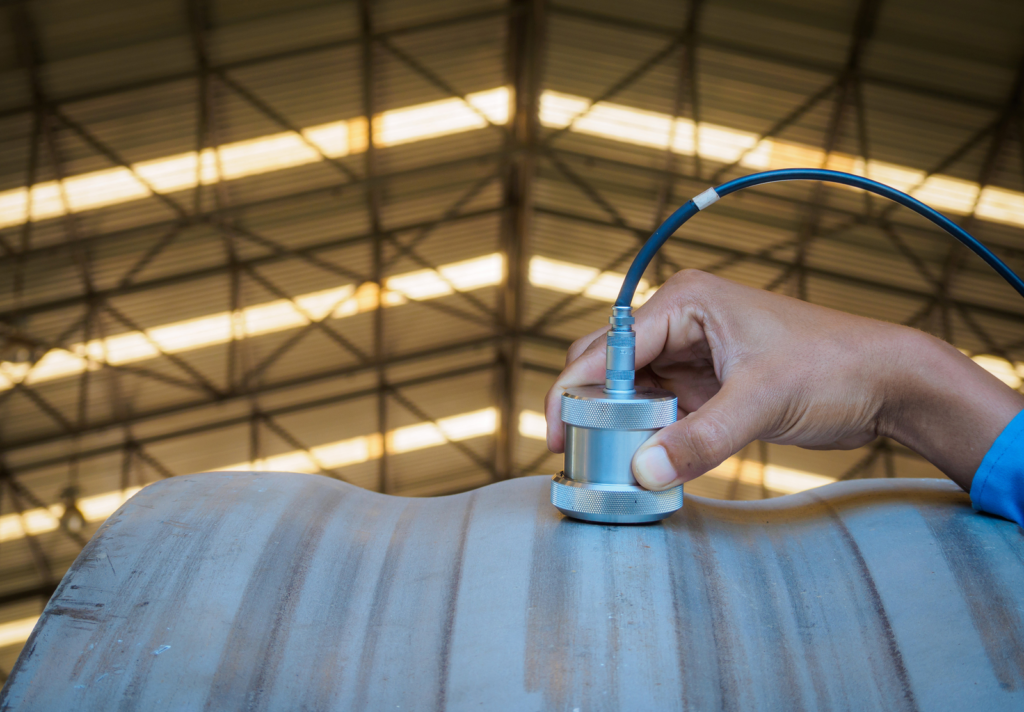 PC13. apply the developer uniformly across the test specimen as per manufactures guidelines or
standard procedure
PC14. ensure that developer is not disturbed for specified period of time as per instructions for
blotting action to take place correctly
PC15. inform the superiors about the completion of blotting period and development of penetrant
on the test surface
PC16. clean the developer and penetrant post inspection of seniors

Knowledge and Understanding (KU)
The individual on the job needs to know and understand:
KU1. standard practices for quality control works
KU2. safety rules and regulations for handling and storing required tools, equipment and materials
KU3. personal protection including the use of related safety gears & equipment's

KU4. service request procedures for tools, materials and equipment's
KU5. statutory compliance requirement related to working at height
KU6. statutory compliance requirement related to workmen engagement
KU7. principle of dye penetration test

KU8. different materials on which dye penetration test can be carried out
KU9. how to select materials used in dye penetration test for various conditions of testing
KU10. type of defects inspected by dye penetration test
KU11. limitations of dye penetration test

KU12. precautions to be taken while conducting dye penetration test
KU13. importance of cleaning the surface before and after conducting dyepenetration test
KU14. different methods of cleaning metal surface
KU15. different types of penetrants

KU16. different methods of application of penetrants
KU17. different types of developers
KU18. different methods of application of developers
KU19. manufacturers guidelines for application of and development time of various penetrants and
developers
KU20. safety parameters to be undertaken while conducting the dye penetration test

Generic Skills (GS)
User/individual on the job needs to know how to:
GS1. write in at least two language, preferably in the local language of the site and basic English
GS2. provide clear and simple instructions, details & sketches to sub-ordinate
GS3. record and document daily productivity report, daily labour attendance &details regarding
work

GS4. prepare basic status updates for the superiors in the prescribed format
GS5. read one or more language, preferably in the local language of the site
GS6. read drawing, specification and standards related to relevant work
GS7. read key documents including quality standards and standard working methods
GS8. read various, sign boards, safety rules and safety tags , instructions related to exit routes
during emergency at the workplace
GS9. speak in one or more language, preferably in one of the local languages of the site
GS10. listen and follow instructions clearly given by the superior
GS11. provide clear instructions to subordinates for completion of task as per work plan, time
schedule and quality

GS12. estimate required material and resources for work
GS13. determine the location of joint / segment for testing
GS14. determine appropriate location of joint / segment for testing
GS15. determine quantity of developers and penetrants and assess compatibility with base metal
and testing conditions

GS16. determine appropriate method for uniform application of penetrant and developer
GS17. plan work targets, allocate time schedule to sub-ordinates and organize completion of task
within allocated time

GS18. ensure completion of work as per agreed time schedule and quality
GS19. report to superiors in case of any defects or shortage in tested components and sections
GS20. check for impurities / dirt on test surface and rectify

GS21. check for excess penetrant on the surface and remove the same
GS22. ensure that removers / solvents are not directly applied to the test surface
GS23. assess quantity of materials for day work

GS24. optimize resources
GS25. minimize wastages
GS26. assess complexity of the tasks and provide guidance for carrying out corrective action as per
requirement
GS27. identify and assess how violation of any safety norms may lead to accidents