Hotel Management Syllabus (6 Month)
Syllabus For Commis Chef
Cooking vegetarian and non -vegetarian food items
Methods of cooking
Different cuisines like Indian, Chinese, Italian, and Continental
Prepare hot and cold sandwiches
Produce basic hot sauces
Produce cold starters and salads
Produce basic vegetable dishes
Produce basic meat dishes
Produce basic poultry dishes
Produce basic bread and dough products
2) Food Preparation :-
Practice different types of cuts of vegetables
List different types of equipment's used in kitchen
List different types of food ingredients
Explain different types of cuisines
Practice in Kitchen area on different types of cooking range
Practice different types of cuts
Practice preparation of different types Sauces, Salads and Cold starters
State the importance of personal hygiene and grooming standards and apply it in day today practice
3 ) Customizing food items as per consumer 's requirements
Menu Knowledge
Standard Recipes
The standard requests of the customers
Incorporation of various innovation in cooking
Regional as well as global cooking methods
Nutrition and new trends in cooking
Suggesting the customer to rightly choose to enhance taste
Have good knowledge on product and services and brief the customer clearly on them in a polite and professional manner
Identify customer needs by asking questions
Build friendly but impersonal relationship with the customers
Use appropriate language and tone and listen actively
Show sensitivity to gender/ cultural and social differences
Understand customer expectations and provide appropriate product/services
Understand customer dissatisfaction and address their complaints
Maintain proper body language and dress code
Communicate clearly and effectively with the guest
Inform the customers on any issues and developments involving them
Respond back to the customer immediately
Upselling/promoting suitable products and services
Seek feedback from customers
Explain terms and conditions clearly
Understand target customers, their profiles and needs
Build good rapport with the customer
Understand the market trends and customer expectations by discussing the same with frequent customers
Seek feedback and rating from customer • Use customer oriented behaviour to gain loyalty and satisfaction
Be friendly but not familiar with guest
4 ) Set up and Close Kitchen :-
• Identify different types of equipment's and cleaning agents required for cleaning
• Practice cleaning the kitchen area
• Inspect different types of kitchen equipment and report if any equipment is not working
• Practice cleaning kitchen as per SOP of the hotel/restaurant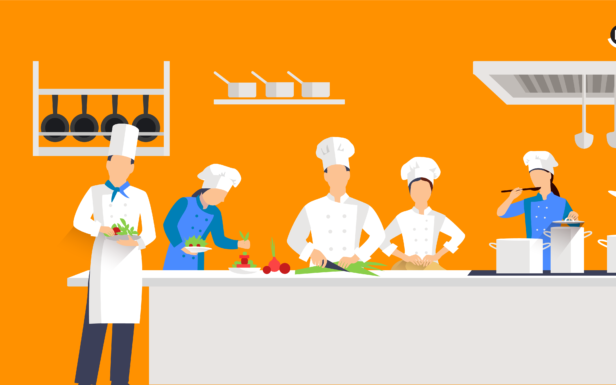 5 ) Monitor Stock Movement :-
Recall the procedure to receive supplies and materials
Practice receiving supplies and checking the stock against the invoice and bills
Distribute and store the supplies to the designated area.
Explain the procedure to keep a track of supplies and material
Assess menu planning and ways to control stocks.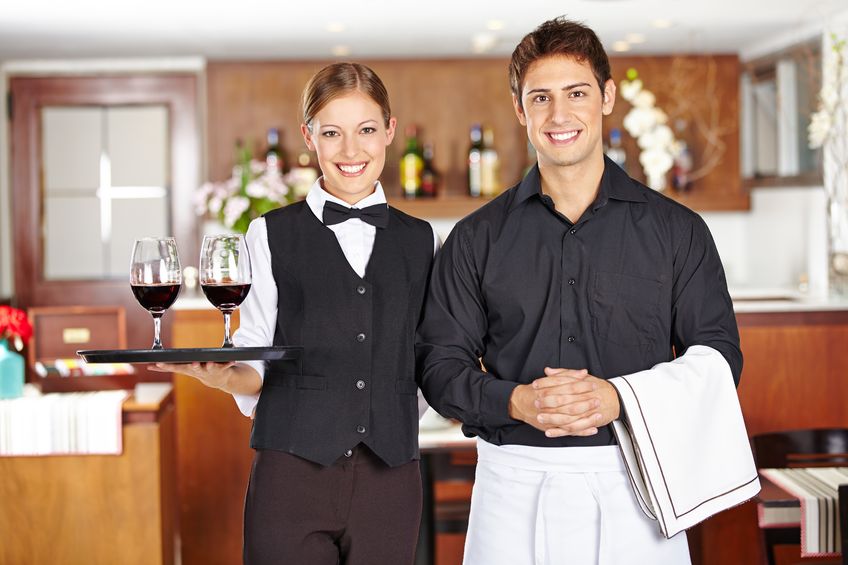 6 ) Communicate with Customer and Colleagues :-
State the importance of effective communication and team coordination
Tell basic phraseology used to interact with customers
• Practice on computer and smart phone to communicate with customer and colleagues
Practice on dealing with different types complaints.
7 ) Maintain customer satisfaction and hospitable conduct:-
Tell the importance of customer satisfaction
State the importance of customer feedback
Explain innovative products and services to improve customer satisfaction
Practice professional and polite etiquette behaviour to interact with customer
Practice on different situations to achieve customer satisfaction
Communicate customer feedback to seniors
Enhance brand value of company.
8 ) Follow gender and Age Sensitive Service Practices :-
• Discuss rights and respect given to women at workplace
• Explain specific requirements of different age groups of customers
• Explain different safety measures and procedures available for female colleagues and customers
• Practice to deal with female customers and colleagues related to safety issues
• Practice situation handling in case of any safety and security threat.
9 ) Maintain Health & Hygiene & safety at Workplace
State different food safety and hygiene standards

Explain the importance of cleanliness around the place

State the importance of personal hygiene Describe different health risks to the worker or customer

Demonstrate the use of protective equipment's and gears

Differentiate different types of waste and dispose them properly

Analyse hazards at workplace

Practice the emergency evacuation procedures

Practice on fire extinguisher and emergency evacuation mock drill

Explain where chemicals and acids need to be stored

Practice the safe cleaning procedure
IPR and Copyright
Make sure new initiatives of Hotel are not leaked out 126. Report IPR violations 127. Read copyright clause 128. Protect infringement upon customer's interests 129. Know which aspect of customer information can be used 130. Report any infringement.
Housekeeper cum Cook
Carry out basic housekeeping services :- • Describe different areas of a house.• Describe the processes of sweeping, dusting and mopping using traditional methods as well as using appliances. • Discuss the steps of tidying up different rooms in a house. • Explain the process of bed making. • Discuss the method of cleaning the bathroom. • Explain the operation and maintenance of various household appliances such as vacuum cleaner, AC, etc.
Carry out basic laundry :- Discuss how to sort clothes as per types of colour, fabric and texture for washing • Explain the operation of the semiautomatic and automatic washing machines. • Explain the method of washing and drying different types of clothes/ fabrics using appropriate products manually as well as using semiautomatic/ automatic washing machine. • Discuss about different types of irons and their operation and maintenance. • Explain the methods of ironing different types of clothes/ fabrics. • Describe the method of organising different types of clothes/ fabrics.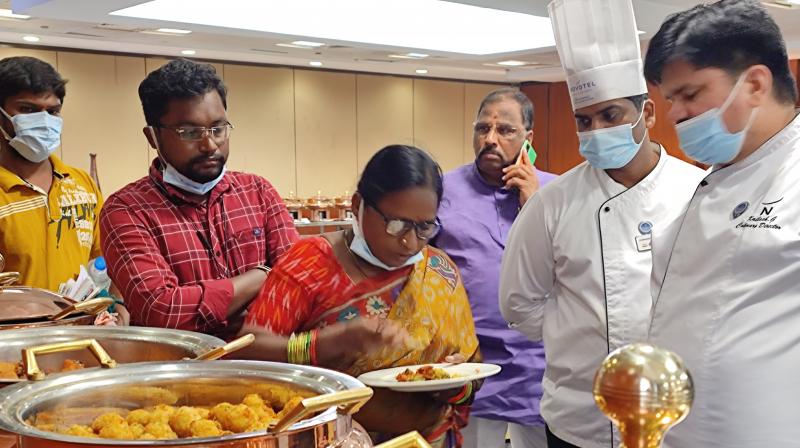 Routine Cleaning of the Kitchen, Utensils and Equipment:- Explain the way to prepare a daily/ periodic cleaning routine. • Discuss the steps of cleaning the kitchen walls, floor and ceiling. • Discuss the steps of cleaning and sanitising the kitchen countertop, cooking stove, cabinets and the sink. • Explain how to clean kitchen appliances, utensils and tools with the appropriate cleaning agents • Discuss various ways of storing different types of utensils. • Explain the ways to keep the kitchen safe and hygienic
Carry out household cooking services :- Discuss the elements of the balanced diet and meal planning. • Explain how to prepare a list for grocery items based on existing stock and meal plans. • Explain the basics of cooking different types of food. • Discuss how to use/ operate and maintain various kitchen tools, equipment, appliances and utensils. • Explain how to prepare different dressings, sauces, pickles, puree etc. • Explain storing and preserving various types of cooked/ half cooked dishes. • Describe hazards and safety measures that should be kept into mind while working in the kitchen
Provide basic table service during meal time :- • Explain how to lay and decorate the dining table prior to serving meals, cocktails etc. • Discuss about various types of serve-ware, their uses and how to present food and drinks in them. • Discuss etiquettes, rules and principles about serving the meals and beverages. • Explain how to develop and maintain a hospitable environment during the meals. • Explain how to manage (store/ discard) leftover food. • Explain how to maintain hygiene while serving the meals.
Display Standards of Hygiene and Work Etiquettes :- • Explain how to communicate effectively with employer, co‐workers, the family and others. • Describe how to practice ethical behaviour, positive outlook and personal integrity. • Discuss the method of dressing professionally, maintaining personal hygiene and grooming. • Explain gender discrimination, gender equality and various ways of being gender sensitive. • Discuss the provisions of Sexual Harassment of Women at the Workplace (Prevention, Prohibition and Redressal) Act, 2013. • List health and safety requirements of the PwD (Persons with Disabilities). • Describe the rights, duties and benefits available at workplace for PwD. • Explain the procedure to report various issues (e.g., sexual harassment, infectious disease, health issue to the appropriate authority). • Describe how to recognize indicators of harassment and discrimination based on gender, disability, caste, religion, colour, sexual orientation and culture • Discuss about personal, social and telephone etiquette. • Explain the ways of managing time
Maintain a Clean and Secure Working Environment:-
• Explain how to identify unsafe conditions and hazards in the households/ workplace, and various safety measures to deal with them. • Discuss the various responses to different emergency situations/ hazards • Describe the causes of fire and the various fire extinguishants. • Describe how to carry out first aid, ABC procedure and CPR (Cardiopulmonary Resuscitation). • Explain environment friendly practices to minimise pollution of air, water, noise, earth etc. • Describe different types of waste, their segregation, and applying 3 Rs (reduce, recycle and re‐use) of waste management. • Discuss the methods of keeping the workplace bugs/ germs/ rodent free. • State the importance of conservation of energy and materials.