Set Painter (1 years diploma)
Brief Job Description: Individuals in this job need to understand painting
requirements, paint a variety of surfaces and produce desired effects.

Personal Attributes: This job requires the individual to paint different elements of
the set as per the script requirements. The individual should possess painting skills
e.g. how to apply paint using brush, roller or spray techniques. The individual may
also have specialized painting skills e.g. techniques to produce specific effects,

application of wall paper, application of metal leaf etc. The individual should
possess basic literacy and numeracy skills, and be able to communicate effectively

with the set construction team. The individual must be flexible and innovative, and
should be able to contribute in identifying ways to make set construction more
cost effective.
Description
Blueprint A technical drawing of an architecture or engineering design, typically with
measurements and angles of each component
Budget Budget is an estimate of the total cost of production that may include a break-up
of cost components

Construction Schedule A detailed breakdown of activities for a construction project, with the duration of
each activity and organized in sequential order
Continuity Continuity represents the seemless transition from one shot to another
Copyright Laws A legal framework linked to intellectual property and the rights given to creators
of original products/ concepts

Draftsman (1) A visual artist who specialises in artistic drawings. Or, (2) A person who prepares
technical drawings and plans under the direction of an architect or engineer or
designer.

Dress Set Decorating the set for aesthetic/ visual purposes
Labour Laws Legal norms governing the relationship between workers, employers, trade unions
and the government

Metal Leaf A thin foil used for decorative purposes. Metal leaf can come in many different
metallic shades and may or may not contain preciousmetals
Post-production Post-production is the final finishing phase of the production, where the raw
footage is edited, special effects are added, music and sound are integrated,
colour correction is done etc.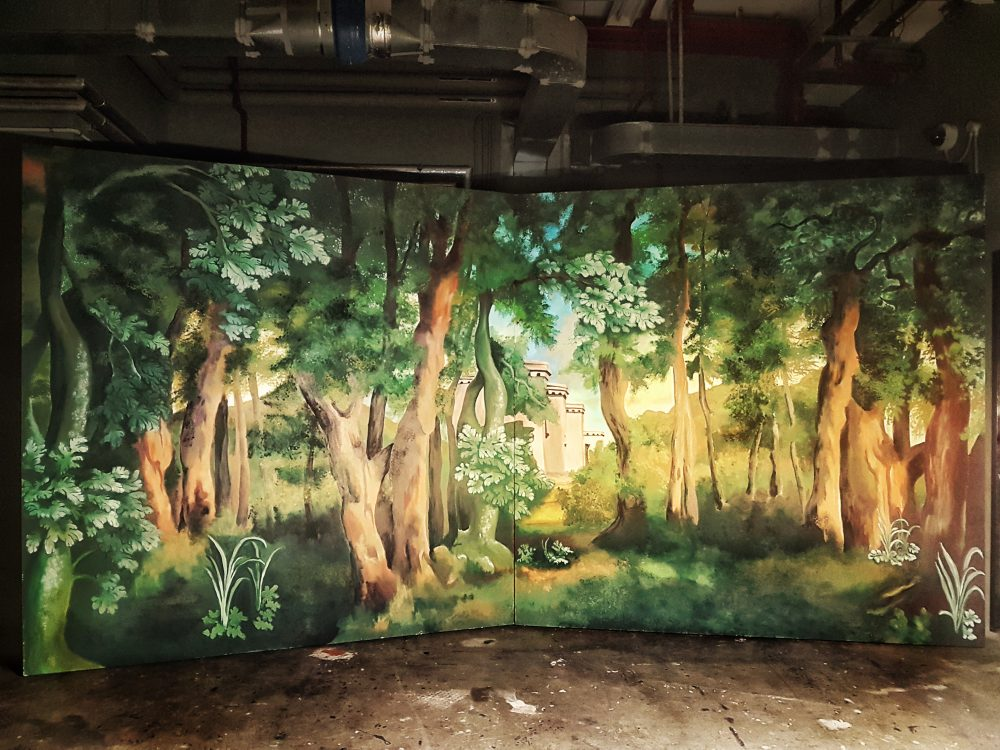 Props A property, commonly shortened to prop (plural: props), is an object used on stage
or on screen by actors during a performance or screen production. In practical
terms, a prop is considered to be anything movable or portable on a stage or a set.
Roller (Painting) Painting technique that uses a flat, cylindrical tool (roller) to apply paint
to large, flat surfaces quickly and evenly

Scale Drawings A drawing that depicts the accurate dimensions of an object, except they have all
been reduced or enlarged by a certain fixed percentage (called
the scale).

Screenplay Screenplay is the script coupled with key characteristics of the scene and directions
for acting
Script Script is a structured narrative of a story
Set The background/ scenery visible through the camera (for video production) or
directly to the spectator (for theatrical production)
Set Etiquette A set of guidelines that dictate how cast and crew should behave on set and
interact with each other

Spray (Painting) Painting technique that uses air to apply a thin coating of paint on the Surface
Stencil (Painting) A thin sheet of paper, plastic, or metal, that contains the cut-out of a design in
reverse. Used to produce the design on a surface by applying paint through the
holes in the stencil
Strike Set Process of dismantling the set (including moveable items and semi- permanent
fixtures), and storing, discarding or returning these items
Timelines Timelines is a listing of dates by which the production milestones/stages need to
be completed

Sector Sector is a conglomeration of different business operations having similar
businesses and interests. It may also be defined as a distinct subset of the economy
whose components share similar characteristics and interests.
Sub-sector Sub-sector is derived from a further breakdown based on the characteristics and
interests of its components.

Vertical Vertical may exist within a sub-sector representing different domain areas or the
client industries served by the industry.
Occupation Occupation is a set of job roles, which perform similar/related set of functions in
an industry

Function Function is an activity necessary for achieving the key purpose of the sector,
occupation, or area of work, which can be carried out by a person or a group of
persons. Functions are identified through functional analysis and form the basis of
OS.

Sub-functions Sub-functions are sub-activities essential to fulfill the achieving the objectives of
the function.
Job role Job role defines a unique set of functions that together form a unique employment
opportunity in an organization.
Occupational Standards

(OS)
OS specify the standards of performance an individual must achieve when carrying
out a function in the workplace, together with the knowledge and understanding
they need to meet that standard consistently. Occupational Standards are
applicable both in the Indian
and global contexts.

Performance Criteria Performance Criteria are statements that together specify the standard of
performance required when carrying out a task
National Occupational
Standards (NOS)
NOS are Occupational Standards which apply uniquely in the Indian context.
Qualifications Pack

Code
Qualifications Pack Code is a unique reference code that identifies a qualifications
pack.
Qualifications Pack(QP) Qualifications Pack comprises the set of OS, together with the educational, training
and other criteria required to perform a job role. A Qualifications Pack is assigned
a unique qualification pack code.

Unit Code Unit Code is a unique identifier for an Occupational Standard, which is denoted by
an 'N'.
Unit Title Unit Title gives a clear overall statement about what the incumbent should be able
to do.
Description Description gives a short summary of the unit content. This would be helpful to
anyone searching on a database to verify that this is the appropriate OS they are
looking for.
Scope Scope is the set of statements specifying the range of variables that an individual
may have to deal with in carrying out the function which have a critical impact on
the quality of performance required.
Knowledge and
Understanding

Knowledge and Understanding are statements which together specify the
technical, generic, professional and organizational specific knowledge that an
individual needs in order to perform to the required standard.

Organizational Context Organizational Context includes the way the organization is structured and how it
operates, including the extent of operative knowledge managers have of their
relevant areas of responsibility.
Technical Knowledge Technical Knowledge is the specific knowledge needed to accomplish specific
designated responsibilities.
Core Skills/Generic
Skills

Core Skills or Generic Skills are a group of skills that are key to learning and working
in today's world. These skills are typically needed in any work environment. In the
context of the OS, these include communication related skills that are applicable
to most job roles.

Keywords /Terms Description
NOS National Occupational Standard(s)
QP Qualifications Pack
NVEQF National Vocational Education Qualifications Framework
NVQF National Vocational Qualifications Framework
Prepare surface for painting
Description This OS unit is about preparing backgrounds and surfaces for the requisite painting
finishes/ effects
Scope This unit/task covers the following:
 Understanding the production brief
 Estimating materials and tools needed
 Treating surfaces

Performance Criteria (PC) w.r.t. the Scope
Element Performance Criteria
Understanding
the production
brief

To be competent, the user/individual on the job must be able to:
PC1. understand the production's desired finishes/ effects from the brief provided
by the Production Designer/ Art Designer, which may include: simple painting,
complex painting effects, specialized finishes such as wood or stone
finishes, stenciling/ drawing effects
Estimating
materials and tools
needed

PC2. correctly estimate the material/ tool requirements and minimize wastage,
which may include paint, solvents and other materials, hand and machine
tools, access and working platforms (e.g. ladders, stools, custom-built working
platforms etc.)
Treating surfaces PC3. treat surfaces and prepare them for painting as per the required timeframe and
plans
PC4. complete the task within the required timeframe and minimize wastage of
materials

Knowledge and Understanding (K)
A. Organizational
Context
(Knowledge of the
company /
organization and
its processes)
The user/individual on the job needs to know and understand:
KA1. the key elements of the set under construction and the reasons why the
identified finish/ effect is required for the surface
KA2. the expectations of the Production Designer and any key limitations on budget,
resources and time availability

B. Technical
Knowledge
The user/individual on the job needs to know and understand:
KB1. how to check the suitability of a surface for the required finish/ effect
KB2. what materials and tools would be best suited to achieve the desired results
and how to apply/ operate them

KB3. how to set-up and take down working platforms required to complete the job
KB4. techniques for preparing previously untreated surfaces
KB5. techniques for preparing previously treated surfaces
KB6. how to remove marks, defects, stickers and other materials that remain on the
surface

KB7. techniques for filling and leveling the prepared surface
KB8. application of primers, sealers and other finishing materials before the
surface can start to be painted with the required effects
KB9. applicable health and safety guidelines, and minimizing the risk to the
individual's own health and safety as well as those around him/ her
Skills (S)
A. Core Skills/
Generic Skills
Writing Skills

The user/ individual on the job needs to know and understand how to:
SA1. prepare material lists and rough estimates
Reading Skills
The user/individual on the job needs to know and understand how to:
SA2. read and correctly identify paints, solvents and other materials (e.g. brand,
shade/ color, composition etc.)

Oral Communication (Listening and Speaking skills)
The user/individual on the job needs to know and understand how to:
SA3. understand the requirements from the production design team
SA4. convey the estimated resource requirements (time, people, materials,
budget) and any constraints/ limitations

B. Professional Skills Decision Making
The user/individual on the job needs to know and understand how to:
SB1. make relevant decisions related to the area of work e.g. choice ofmaterials
Plan and Organize
The user/individual on the job needs to know and understand:
SB2. plan his/her work according to the requirements and agreed timelines
SB3. manage within the agreed budget and minimize wastage

Problem Solving
The user/individual on the job needs to know and understand how to:
SB4. identify any problems with successful execution of the task
SB5. communicate these to the production design team and identify solutions
Customer Centricity
The user/individual on the job needs to know and understand how to:
SB6. check that surface prepared/designed meets project requirements

Analytical Thinking
The user/individual on the job needs to know and understand how to:
SB7. have a keen eye for detail and maintain an aesthetic sense towards the final
output

Critical Thinking
The user/individual on the job needs to know and understand how to:
SB8. appraise the quality of the work done/ produced to ensure they are in line
with initial concept and quality standards
Apply paint using brush, roller or spray
National Occupational Standard
Unit Code
Unit Title

(Task) Apply paint using brush, roller or spray
Description This OS unit is about applying paint on to prepared surfaces using brushes, rollers or
spray techniques
Scope This unit/task covers the following:

 Understanding the production brief
 Applying paint through different techniques
Performance Criteria (PC) w.r.t. the Scope
Element Performance Criteria
Understanding the
production brief
To be competent, the user/individual on the job must be able to:
PC1. understand the production's desired finishes/ effects from the brief provided
by the Production Designer/ Art Designer

PC2. identify the appropriate type of paint, which may include water-based paints,
oil-based paints etc.
PC3. identify the appropriate painting technique, which may include brush painting,
rollers, spray-based painting etc
Applying paint
through different
techniques

PC4. apply the paint using the identified application technique
PC5. complete the task within the required timeframe and minimize wastage of
materials

Knowledge and Understanding (K)
A. Organizational
Context
(Knowledge of the
company /
organization and
its processes)
The user/individual on the job needs to know and understand:
KA1. the key elements of the set under construction and the reasons why the
identified finish/ effect is required for the surface
KA2. the expectations of the Production Designer and any key limitations on budget,
resources and time availability

B. Technical
Knowledge
The user/individual on the job needs to know and understand:
KB1. what materials and tools would be best suited to achieve the desired results
and how to apply/ operate them
KB2. how to set-up and take down working platforms required to complete the job
KB3. how to measure and mix various paint components (e.g. paint, primer,
thinner) to achieve the desired composition

KB4. how to cordon off the working area and surface to be painted (using masking
tape, plastic sheets etc.) to ensure that paint does not unintentionally reach
other surfaces

KB5. how to use brushes for applying paint to surfaces (appropriate for clean,
sharp edges and around surface transitions)
KB6. how to use rollers for applying paint to surfaces (appropriate for wide, flat
surfaces and achieving an even painted look)

KB7. how to apply spray-based paints on to surfaces (appropriate for wide, flat
surfaces and faster turnaround times)
KB8. check for any defects, blotches or marks and repair them to achieve a
uniformly painted surface

KB9. applicable health and safety guidelines, and minimizing the risk to the
individual's own health and safety as well as those around him/ her
Skills (S)
A. Core Skills/
Generic Skills
Writing Skills

The user/ individual on the job needs to know and understand how to:
SA1. prepare material lists and rough estimates
Reading Skills
The user/individual on the job needs to know and understand how to:
SA2. read and correctly identify paints, solvents and other materials (e.g. brand,
shade/ color, composition etc.)

Oral Communication (Listening and Speaking skills)
The user/individual on the job needs to know and understand how to:
SA3. understand the requirements from the production design team
SA4. convey the estimated resource requirements (time, people, materials,
budget) and any constraints/ limitations

B. Professional Skills Decision Making
The user/individual on the job needs to know and understand how to:
SB1. make relevant decisions related to the area of work

Plan and Organize
The user/individual on the job needs to know and understand:
SB2. plan his/her work according to the requirements and agreed timelines
SB3. manage within the agreed material quantities and minimize wastage

Problem Solving
The user/individual on the job needs to know and understand how to:
SB4. identify any problems with successful execution of the task
SB5. communicate these to the production design team and identify solutions
Customer Centricity

The user/individual on the job needs to know and understand how to:
SB6. check that work produced meets project requirements

Analytical Thinking
The user/individual on the job needs to know and understand how to:
SB7. have a keen eye for detail and an aesthetic sense towards the final output
Critical Thinking
The user/individual on the job needs to know and understand how to:
SB8. appraise the quality of the work done to ensure they are in line with initial
concept and quality standards
Produce finishes and effects
Description This OS unit is about producing a range of basic and complex finishes and effects on
painted surfaces
Scope This unit/task covers the following:
 Understanding the production brief
 Achieving paint finishes

Performance Criteria (PC) w.r.t. the Scope
Element Performance Criteria
Understanding the
production brief

To be competent, the user/individual on the job must be able to:
PC1.understand the production's desired paint finishes/ effects from the brief
provided by the Production Designer/ Art Designer
PC2. identify the appropriate techniques and materials to achieve the following types
of finishes/effects on painted surfaces:

 basic brush graining (for wood) and marbling (for stone) effects
 replica wood or stone finishes
 broken color effects (e.g. bagging, clouding, color wash, dragging,
frottage, mottling, rag-rolling, sponging and stippling)
 color blend and multi-color effects
 drywall textures (e.g. sand, peel, swirls, slap brush, comb finishes)
Achieving paint

finishes
PC3. apply the paint using the identified application technique and materials
PC4. complete the task within the required timeframe and minimize wastage of
Materials

Knowledge and Understanding (K)
A. Organizational
Context
(Knowledge of the
company /
organization and
its processes)

The user/individual on the job needs to know and understand:
KA1. the key elements of the set under construction and the reasons why the
identified finish/ effect is required for the surface
KA2. the expectations of the Production Designer and any key limitations on
budget, resources and time availability

B. Technical
Knowledge
The user/individual on the job needs to know and understand:
KB1. how to check the suitability of a surface for the required finish/ effect
KB2. what materials and tools would be best suited to achieve the desired results
and how to apply/ operate them

KB3. how to measure and mix various paint components (e.g. paint, primer,
thinner) to achieve the desired composition
KB4. how to set-up and take down working platforms required to complete the job
KB5. how to cordon off the working area and surface to be painted (using masking
tape, plastic sheets etc.) to ensure that paint does not unintentionally reach
other surfaces
KB6. techniques for producing basic brush graining (for wood) and marbling (for
stone) effects
KB7. techniques for producing replica wood or stone finishes
KB8. techniques for producing broken color effects (e.g. bagging, clouding, color
wash, dragging, frottage, mottling, rag-rolling, sponging and stippling)
KB9. techniques for producing color blend and multi-color effects
KB10. techniques for producing drywall textures (e.g. sand, peel, swirls, slap brush,
comb finishes)

KB11. check for any defects, blotches or marks and repair them to achieve a
uniformly painted finish/ effect all over the surface
KB12. applicable health and safety guidelines, and minimizing the risk to the
individual's own health and safety as well as those around him/ her

Skills (S)
A. Core Skills/
Generic Skills
Writing Skills
The user/ individual on the job needs to know and understand how to:
SA1. prepare material lists and rough estimates
Reading Skills

The user/individual on the job needs to know and understand how to:
SA2. read and correctly identify paints, solvents and other materials (e.g. brand,
shade/ color, composition etc.)

Oral Communication (Listening and Speaking skills)
The user/individual on the job needs to know and understand how to:
SA3. understand the requirements from the production design team
SA4. convey the estimated resource requirements (time, people, materials,
budget) and any constraints/ limitations

B. Professional Skills Decision Making
The user/individual on the job needs to know and understand how to:
SB1. make relevant decisions related to the area of work

Plan and Organize
The user/individual on the job needs to know and understand:
SB2. manage within the agreed budget and minimize wastage
Problem Solving
The user/individual on the job needs to know and understand how to:
SB3. identify any problems with successful execution of the task
SB4. communicate these to the production design team and identify solutions

Customer Centricity
The user/individual on the job needs to know and understand how to:
SB5. check that the work done meets project requirements
Analytical Thinking
The user/individual on the job needs to know and understand how to:
SB6. have a keen eye for detail and maintain an aesthetic sense towards the final
output

Critical Thinking
The user/individual on the job needs to know and understand how to:
SB7. appraise the quality of the work done to ensure it is in line with initial
concept and quality standards
Produce stencil effects
Description This OS unit is about producing stencil effects using pre-fabricated and custom-made
stencils
Scope This unit/task covers the following:
 Understanding the production brief
 Producing stencil effects

Performance Criteria (PC) w.r.t. the Scope
Element Performance Criteria
Understanding the
production brief
To be competent, the user/individual on the job must be able to:
PC1. understand the production's desired stencil effects from the brief provided
by the Production Designer/ Art Designer
Producing stencil
effects

PC2. create customized stencils, where appropriate
PC3. correctly place and apply created, or prefabricated, stencils
PC4. use appropriate techniques (eg: stencil brushes, stencil rollers) to apply paint
within cut out areas

PC5. use appropriate techniques (eg: sponges or other specialized materials) to
create effects within cut out areas
PC6. complete task within required timeframes and minimize wastage of materials
Knowledge and Understanding (K)

A. Organizational
Context
(Knowledge of the
company /
organization and
its processes)

The user/individual on the job needs to know and understand:
KA1. the key elements of the set under construction and the reasons why a
stenciled effect is required for the surface
KA2. the expectations of the Production Designer and any key limitations on
budget, resources and time availability
B. Technical
Knowledge

The user/individual on the job needs to know and understand:
KB1. how to check the suitability of a surface for the required finish/ effect
KB2. what materials and tools would be best suited to achieve the desired results
and how to apply/ operate them

KB3. how to measure and mix various paint components (e.g. paint, primer,
thinner) to achieve the desired composition
KB4. how to set-up and take down working platforms required to complete the job
KB5. how to cordon off the working area and surface to be painted (using masking
tape, plastic sheets etc.) to ensure paint does not unintentionally spread
KB6. techniques for correctly placing and applying pre-fabricated stencils

KB7. techniques for cutting, correctly placing and applying custom-made stencils
KB8. techniques for using paint brushes and rollers to paint within cut out areas
KB9. check for any defects, blotches or marks and repair them to achieve the
required stenciled finish/ effect on the surface
KB10. applicable health and safety guidelines, and minimizing the risk to the
individual's own health and safety as well as those around him/ her